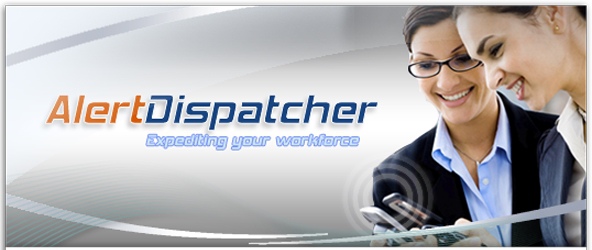 ClickNDeploy is a leading developer of high-availablility (HA) industrial grade emergency messaging systems for mission critical operations. Our flagship AlertDispatcher SMS and Email Messaging Gateway product has been deployed in more than a thousand mission critical sites worldwide.
The majority of SMS/Email alert solutions in the market are developed for 1-way mass notification with no way of knowing whether the recipient has read the message or even if the messaging system is working in the first place. The SMS Gateway and Alert notification system and feature is often overlooked by system architects and only gets attention when it fails to work when a real disaster strikes. We've seen a case where a state-of-art data center management system using the latest technology monitoring tens of million dollars worth of physical asset failed to work just because a $120 GSM modem connected to the system was offline and no one even knew when it had stopped working.

AlertDispatcher is a no-frills, self-contained Windows application designed from ground up for application-aware high availability**, high message deliverability and maximum portability. For maximum portability and minimum dependency so as to minimize single points of failure, AlertDispatcher does not rely on Java, .NET, VC++ DLLs, IIS, SQL database or any web service (or the Internet) and works off-the-shelf on fresh installations of Windows workstation or server (physical or virtual machine).

**AlertDispatcher offers Application-Aware High Availability, High Message deliverability and Maximum Portability through multiple approaches:

1. High message deliverability by supporting up to 10 levels of Escalations (SMS/Email/Ring Phone) should the recipient fail to acknowledge.
2. Using Active/Active or Active/Passive HA failover clustering" (both physical servers/VM) to provide complete 1+1 redundancy with no single point of failure (Enterprise Edition only).
3. Proactively monitors and reports communication channel errors (signal quality, email/network access).
4. Automatic failover to and recovery from redundant communication channels (redundant modem pools, SMTP servers, and switches).
5. Internal watchdog that monitors and resets any failed or hung process.
6. 3rd party/interfacing applications, device and network monitoring using HTTP/PING and report failures/recovery.
7. And if all other measures fail, minimizes downtime with its simple installation and fast recovery procedures - if you can configure and operate MS Outlook, you can install, configure and test a 2-server AlertDispatcher HA cluster in under 4 hours even if you're doing it for the very first time.


AlertDispatcher readily integrates with email systems (MS Exchange, Lotus Notes), IT network monitoring systems, and building and facility management systems. ClickNDeploy also provide services for custom integration into legacy systems (SNMP, Modbus, OPC, TCP, etc).

[New Built-in Server and Network Monitoring Feature!]
AlertDispatcher now comes with built-in Server/Network Monitoring capability to monitor your servers and IoT network (up to 10,000 network devices). Alarm messages can go missing or delayed because of overloaded networks and unreliable switches. You can now use AlertDispatcher to monitor your applications and detect network issues before a crisis happens.

AlertDispatcher SMS and Email Messaging Gateway integrates seamlessly with the following systems:
1. IT systems: MS Exchange, IBM Lotus Notes, HP OpenView
2. BAS/BMS: Andover Continuum, Azbil savic-net FX, Schneider Electric StruxureWare Building Operation (SBO), Siemens Apogee Insight and Trane Tracer ES/Tracer SC/Tracer Summit
3. EMS: Schneider Electric StruxureWare Power Monitoring Expert (PME)
4. SCADA: Schneider Electric StruxureWare Power SCADA Expert (PSE)
3. DCIM: Schneider Electric StruxureWare Data Center Operation (DCO), Data Center Expert (DCE)

Emergency situations and outages in critical infrastructure such as data centers do occur. Our company mission is to give infrastructure managers a peace of mind and confidence that their engineers will do their job by providing the most reliable monitoring and notification solution at the lowest total cost of ownership.

Explosion at The Planet Causes Major Outage
Fire at SingTel building disrupts telco, ATM services
M1 fined record S$1.5m for service disruption in January




Latest Announcements
07/09/2015 - AlertDispatcher v5.0 Release Announcement
We are pleased to announce the release of AlertDispatcher Version 5.0 (SMS/Email Escalation). Key highlights: 1. Support for sending SMS through 3G+ modems - 2-4 times faster than GSM modems. 2. Displays connected network type (GSM, EDGE, 3G, HSPA) and allows preset modem to 2G or...
07/09/2015 - New Features in AlertDispatcher v5.0
v5.0.0 7th September 2015 Messaging System Changes - Support for sending SMS through 3G+ modems - 2-4 times faster than GSM modems. - Set modem to use 2G or 3G network or both (auto select)". - New Send Message Filter "SendByKeyword.dll" to redirect messages to specific groups of...
06/05/2014 - AlertDispatcher Version 4.5 New Release & Security Announcement
We are pleased to announce the release of AlertDispatcher Version 4.5 (SMS/Email Escalation) . Key highlights of this new version include: 1. Emergency send pause/resume button. 2. New message escalation features (acknowledge alerts on workstation, exclusion keywords for message...
More announcements...
How to setup Andover Continuum to send SMS using GSM modems via AlertDispatcher
How to setup Siemens Apogee Insight to send SMS using GSM modems via AlertDispatcher
How to setup Azbil savic-net FX to send SMS using GSM modems via AlertDispatcher
How to setup Trane Tracer Summit/ES/SC to send SMS using GSM modems via AlertDispatcher
Trane Control System Setup Steps for AlertDispatcher Alarm Alert System (Tracer ES/Tracer SC/Tracer Summit) - BAS-AP-AAS001-EN